Document management systems provider Xerox (NYSE:XRX) shares have remained flat trading (-30%) off its pre-COVID levels during the historic benchmark S&P 500 rally towards new all-time highs.
Stay-in-shelter mandates resulting in office closures have forced an employee to work remotely from home during the pandemic bolstering contactless remote work stocks like DocuSign (NASDAQ:DOCU).
This caused printing volumes and copier usage to shrink dramatically in 1H 2020. As workers return to offices, the servicing and usages of Xerox commercial copiers and printers is naturally expected to rise.
Shares are still trading at a discounted forward price-to-earnings (P/E) of just under 8 with a 5.37% annual dividend holding $10.67 in cash-per-share. Prudent investors may consider taking part in the recovery narrative by stepping into Xerox shares on opportunistic pullback entries while still rangebound.
Q2 FY 2020 Earnings Release
On July 28, 2020, Xerox released its second-quarter fiscal 2020 results for the quarter ending June 2020. The Company reported earnings-per-share (EPS) profit of $0.15 excluding non-recurring items versus consensus analyst estimates for a breakeven, a $0.15 per share beat.
Revenues fell (-35.3%) year-over-year (YoY) to $1.47 billion, falling short of consensus estimates for $1.55 billion. The Company noted that COVID-19 effects had a significant impact due to business closures and office building capacity restrictions resulting in lower printing volumes and drops in customer purchases.
European operations suffered larger revenue drops due to the severity of the pandemic causing lower demand and reduction in inventory purchases to manage liquidity. Xerox didn't provide forward but expects to continue to generate free cash flow for the rest of 2020. The Company ended the quarter with $2.3 billion in cash and a $1.8 billion undrawn revolver.
Conference Call Takeaways
The Q2 2020 conference call underscored the severity of the COVID-19 effects in more context. Free cash flow was $15 million, down from $245 million YoY. Adjusted EPS was $0.15 compared to $0.64 YoY.
The Company itself shut down most its offices and facilities in March 2020 with the exception of essential workers. As of the conference call, the Company has reopened over half of its facilities and half of the workers returning onsite.
Xerox expects to grow cost savings by at least $450 million in 2020 under Project Own It streamlining and optimization plan. Automation is the top area of investment. Currently the Company's bots perform more than 1.2 million transactions quarterly automating processes in technical, supply chain and remote solve.
Xerox see continued growth in its digital offerings as clients migrate to the cloud and digital records and documents, notably healthcare and the need for digitalization of patient records accelerated by the pandemic.
Innovation Turbine
Xerox has a history of innovation including the first prototype of a computer mouse (graphic user interface) with never before seen point-and-click functionality (which they didn't capitalize on due to the $10,000 retail price tag) that inspired a young Steve Jobs to develop the Apple Macintosh (NASDAQ:AAPL) at a much cheaper price. This in turn "inspired" a young Bill Gates to develop Microsoft Windows (NASDAQ:MSFT).
Xerox IT services revenues have continued to expand with a strong backlog for 2H 2020. Innovation pillars progressed with IoT predictive analytics, AI-infused platform, cleantech, and 3D printing. The world-class innovation team continues to develop solutions outside of printers including IoT asset management and predictive maintenance solutions for "continuous manufacturing". Cleantech includes testing solutions for energy efficiency for air conditioners. Healthcare includes the manufacturing of disposable ventilators and hand sanitizers.
Liquid Metal 3D Printers
The pandemic highlighted the vulnerabilities of global supply chains and the disastrous effects of disruption. Xerox's liquid metal 3D printing solution "will allow manufacturers to make production-grade parts using off the shelf alloys without sacrificing quality, strength or safety standards.", stated Xerox CEO, John Visentin.
The first product is on track for delivery by year's end. Xerox enjoys a growing portfolio of over 1,000 IP patents. There is always an innovation wild card lottery ticket inherent with Xerox inventing the next "big thing" that is embedded in the stock.
Famed hedge fund manager Carl Icahn boosted his stake in Xerox to 12.82% at $18.12 per share average between Aug. 17 to Aug. 20, 2020 as per Form-4 filing. Prudent investors can monitor opportunistic pullback entries to step in on shares as the recovery narrative continues to take shape.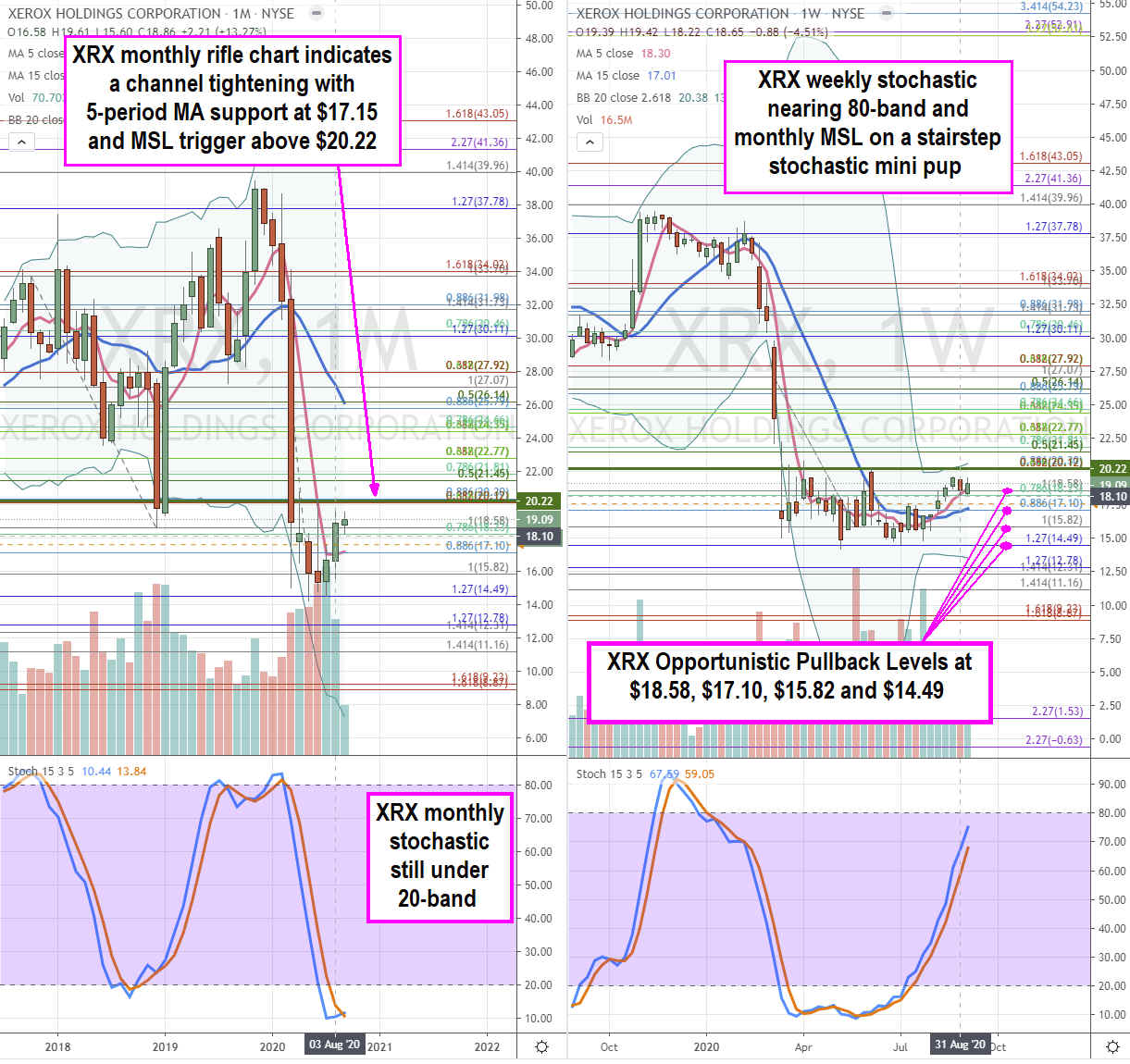 Xerox Stock Chart
XRX Opportunistic Price Levels
Using the rifle charts on the monthly and weekly time frames provides a broader view of the landscape for XRX stock. The monthly rifle chart indicates a channel tightening in progress with a rising 5-period moving average (MA) at $17.10 support as it approaches the monthly market structure low (MSL) buy trigger above $20.22.
The monthly stochastic is still under the 20-band oversold level. Bulls need the monthly stochastic to cross up through the 20-band to maintain upside follow through on the channel tightening towards the monthly 15-period MA at the $26.14 Fibonacci (fib) level.
The weekly stochastic has been rising on stairstep stochastic mini pups as it nears the 80-band overbought level. A test and reversion off the monthly MSL can produce opportunistic pullback levels at the $18.58 fib, $17.10 weekly 15-period MA and monthly 5-period MA and fib, $15.82 fib and $14.49 fib. Since the weekly stochastic has made a full oscillation, it's prudent to wait for pullbacks rather than chase, however if the pullbacks remain shallow until the daily stochastic crosses back up then watch the monthly MSL buy trigger above $20.22.
Original Post