Buying shares of a grocer doesn't make much sense. It's a boring, low-margin business that won't provide hefty returns to shareholders.
Nor, one would think, to big box retailers. But since the advent of e-commerce, some of the world's largest brick-and-mortar chains are trying to re-invent themselves with both a strong physical and online presence. To create more value for customers, as well as face-off effectively versus the juggernaut of online retailers, any truly competitive e-tail component currently needs to feature access to consumer staples such as groceries.
The world's biggest retailer, Walmart (NYSE:WMT), is ahead of the pack in this race as it tries to copy the e-commerce behemoth Amazon (NASDAQ:AMZN) and become a force in technology and media, and reach younger shoppers.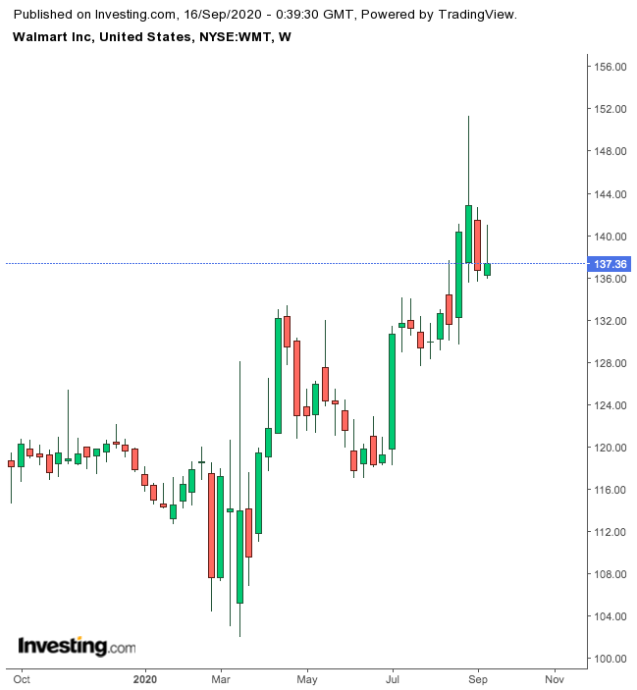 Walmart 1-Year Chart.
Yesterday, the Bentonville, Arkansas-based retailer launched a new subscription program, dubbed Walmart+, offering unlimited free delivery from stores–including groceries. The program costs $98 a year, cheaper than Amazon's $119 annual Prime membership. The service, which includes delivery options as fast as same-day, will help it maintain its dominance in the grocery sector.
Through this membership program, Walmart is trying to entice millions of new customers who are using e-commerce channels to shop during the pandemic. Walmart has a clear advantage to cement its market position, thanks to its low priced food items and a massive network of 4,700 physical stores.
According to Bloomberg, citing a survey from Credit Suisse analysts and researcher Numerator, 5 million customers could join Walmart+ off the bat. The potential audience for the service could be as large as 20 million, the report says. Amazon's Prime program, by contrast, has more than 118 million members in the U.S., according to Consumer Intelligence Research Partners.
With the launch of an annual subscription plan, Walmart is also entering new areas of the digital economy. In 2018 it partnered with, and bought a stake in, Israeli video-production company Eko, which has developed things like interactive toy catalogs for Walmart.
More recently, it has partnered with Microsoft (NASDAQ:MSFT) to acquire the U.S. operations of TikTok, a Chinese-owned music-video app with more than 100 million U.S. followers. Although the retailer's joint bid didn't succeed after Oracle (NYSE:ORCL) emerged as a potential successful bidder if the deal gets approved by both the U.S. and Chinese governments, Walmart remains interested in making a TikTok investment alongside a consortium of other investors.
A possible partnership with TikTok could fuel growth in Walmart's third-party marketplace and advertising businesses, which both deliver bigger profit margins than selling Coke and Cheerios.
"TikTok would give Walmart access to a large, young and loyal group of users coveted by advertising agencies and their blue-chip clients who might shift some of their marketing budgets from Google (NASDAQ:GOOGL), Facebook (NASDAQ:FB) and Amazon over to Walmart's in-house media arm," according to a Bloomberg analysis.
This digital transformation comes at a time when the retailer is in great financial shape. The company's e-commerce business nearly doubled in the second-quarter, with revenues almost doubling from a year ago. Comparable year-on-year U.S. sales, at stores or digital channels operating for at least 12 months, rose 9.3% in the quarter that ended July 31.
It marks the second consecutive quarter of strong growth, providing evidence that the world's largest retailer is grabbing market share in some categories as many retailers close stores or declare bankruptcy amid coronavirus struggles.
Bottom Line
To some investors, Walmart stock has become expensive. It's trading at a forward price-to-earnings multiple of around 27 after the impressive rally of the past six months.
In our view, that concern ignores the fact the retailer isn't the same company it was five years ago. With its e-commerce momentum and strong core brick-and-mortar operations, we believe Walmart shares have more room to run, especially when it's constantly trying new things to attract young shoppers and make its online experience more satisfying for customers.