An integral component of the global economy, the automotive industry, a flourishing behemoth in itself, has been fraught with many challenges in recent times. While automakers have been rather forthright in adapting to the transformation the industry continues to experience time and again, changes in the global technological landscape have prompted the need to quickly analyze the challenges in automotive industry and brainstorm ideas to resolve the same.

 
A paradigm shift has been observed in the functionality and operational know-how of the automotive supply chain. The entire ecosystem is currently scrambling to change, pertaining to the shifting consumer behavior landscape and the transformative trend of connected technology – which in itself is cropping up to be one of the major challenges automotive industry is facing.

 
Developing nations worldwide, specifically across the APAC and MEA belts, are witnessing a massive change in terms of economic growth, leading to increased affordability and rising consumer power. Since the last half a decade or so, the automotive industry has been expanding at an appreciable pace across the emerging economies, which has had a major impact on the automotive supply chain. Consumer behavior with respect to lifestyle, travel, and luxury has undergone a tremendous change. Despite the increase in purchase power parity however, the demand and supply graph has been surprisingly linear. Tackling the same is likely to emerge as one of the major challenges in automotive industry.

 
The automotive manufacturing landscape has also witnessed the penetration of technology conglomerates, ride-sharing firms, and the like. Companies such as Uber, having commenced as a ride-hailing service, are now working toward developing self-driving cars and have even started to deploy the same in various cities across the U.S. Just recently in July, Uber, in partnership with Volvo, has declared third-gen variant of its self-driving car – the all-new XC90 SUV, that will be manufactured to fit the company's self-driving technology at the factory level.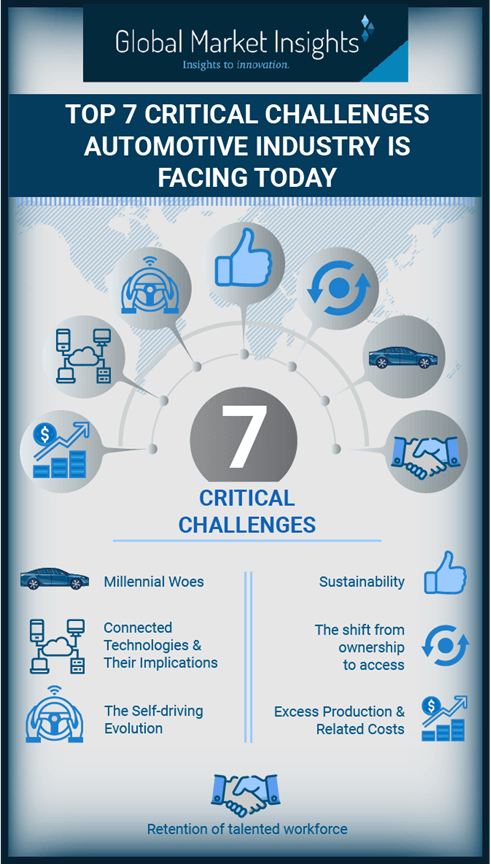 The marginal shift to self-driving comes as a welcome respite amid increasing woes of road accidents and subsequent demand for advanced driver assistance systems. Despite that though, analysts are of the opinion that the technology would not only require a perpetually long time to go mainstream, but is likely to bring forth a new set of challenges in automotive industry within the next decade or so.

 
The 2008 economic crisis was noted to be one of the most critical challenges in automotive industry, as it underwent a significant meltdown, propelled by reduced sales and skyrocketing prices of petrol. Automaker Ford was one of the major companies back then to have sunk into a major financial crisis, that later led to a massive overhaul of the entire production processes.

 
Despite no immediate danger pertaining to an economic debacle lurking in the distance, dealing with vehicle finance and cost-efficiency is another one of those challenges in automotive industry that is likely to resurface. In this context, the pointers below encompass a brief synopsis of the current scenario of the automotive manufacturing domain and the numerous challenges in automotive industry that automakers need to understand and evaluate.

 
Excess Production and Related Costs
The increasingly competitive scenario in automotive manufacturing has led to the overcapacity cropping up as one of the most crucial challenges automotive industry is facing today. In the U.S. alone, 1,13,14,705 units, including cars and commercial vehicles had been manufactured in 2018, claims OICA. The same year, China recorded production worth 2,78,09,196 units while Japan recorded a volume of 97,28,528 units. Apparently, the figures prove that these sales have been largely disappointing as compared to the earlier years.

 
With an unpredictable demand-supply graph at work, in conjunction with changes in the automotive supply chain ecosystem, manufacturers have been going overboard and have invested several resources in developing vehicles that may not actually need to be produced. By the time automakers realize the same, enough finances have already been drained for labor, production, raw material, etc., and over-expenditure and resource wastage becomes the norm.

 
Not to mention, there has been a reduced demand for vehicles in the last couple of years despite the increased affordability, which is also emerging as one of the major challenges in automotive industry. Analysts cite the lowered demand for vehicles in the world's biggest automotive market, China, to be the reason for the global slump. Carmakers with established automotive manufacturing businesses in China have been bearing the full brunt of the U.S.-Sino war, leading to the Chinese economy slowing down faster.

 
With lowered consumer confidence and a severely ferocious competitive landscape, excess automotive manufacturing is becoming inevitable, leading to heavy financial losses. One of the many ways to mitigate the same is to ensure adequately efficient planning and better MPS (master production scheduling) processes.

 
Connected Technologies and Their Implications
The advent of connected technologies is one of the biggest challenges automotive industry is facing presently. With every functionality in automobiles becoming data driven, digitization is becoming rather commonplace in vehicles. This has led to a huge amount of data liable to be stored, transferred, and analyzed. Modern cars equipped with automotive electronics apparently collect a humongous amount of data on a daily basis, that scrutinizes the parameters of speed, performance, component behavior, etc., and enables the derivation of real-time insights.

 
While the greater demand for connected technologies is certain to bring about a transformational impact on the automotive manufacturing industry, it will also bring forth a spate of competition and the requirement of extensive planning and cross-channel integration – right from safety to service. Automakers are leveraging on consumer demand for connected vehicles, however, with increased technological integration comes increased complexity, pertaining to data protection and consumer safety, which car manufacturers are required to address.

 
In essence, connected technologies by itself do not pose to be as much of a direct challenge in automotive industry as their implications do – that include regulatory pressure, millennial interest, etc.

 
The Self-driving Evolution
One of the most revolutionizing breakthroughs of the 21st century, the self-driving technology has surprisingly emerged to be one of pivotal challenges in automotive industry, if experts are to be believed. While the world has embraced the technology with open arms, it still has a very long way to go mainstream. Numerous companies have already begun to get their technology on the road – recently, Ford announced that it plans to expand its self-driving fleet in Texas.

 
However, the transition from level 1 to level 5 – as far as autonomous technology is concerned, is easier said than done. A slew of technology-driven challenges pertaining to delivering accurate real-time insights with the help of AI and Big Data analytics is still midway, as carmakers struggle to grapple with the same. The EV revolution is not as convenient as it sounds, claim experts, given that automakers are not equipped yet, to deliver a completely functional, seamless electric vehicle to the masses. Not only have technical limitations restrained the progress, but the act requires extensive investments. Not to mention, the EV industry is also governed by a stringent regulatory frame of reference.

 
Yet another one of the challenges automotive industry is facing today is the fact that despite the hype, the world isn't quite ready for electric cars. According to EV Volumes, global plug-in deliveries in H1 2019 were 46% higher than 2018. However, it has been speculated that EV sales are remarkably a minor fraction of the overall vehicle deliveries worldwide. One of the reasons for the same has been attributed to the lack of charging stations across global economies. Another reason the EV revolution is proving to be one of the challenges in automotive industry is the limited range of some notable electric car brands.

 
Sustainability
Emissions have proved to be a major hassle for the global automotive manufacturing sector. With air quality deteriorating by the day on account of fuel-powered vehicles, the automotive industry has come to be governed by a stringent regulatory spectrum. Regulatory authorities have introduced an emissions cap, to be strictly adhered to by automakers. In this context, it would be appropriate to state that sustainability challenges in automotive industry are gaining more precedence than ever before. This is specifically true for Europe, that houses a large number of automakers.

 
Increasing CO2 emissions have led to governments levying heavy taxes on car makers, which has been adding to their financial woes. Manufacturers are grappling to deal with the introduction of highly stringent CO2 emission standards, which is making them shell out a humongous amount while designing and building cars. A huge cut-off in diesel sales has also been observed worldwide, which has further led to a massive drop in new vehicle registrations. In the light of this scenario, automakers are now beginning to realize the vast expanse of sustainability challenges in automotive industry.

 
With increasing negative publicity about diesel emissions and CO2 capping becoming all the more stringent, carmakers are finding it highly difficult to offset an appropriate profit margin, leading to huge financial losses. Not to mention, surging car rates have also led to declining consumer interests, creating a vicious cycle of sorts in the automotive sector.

 
In the coming years, automakers will need to find a cost-effective yet suitable solution to simultaneously deal with increased regulatory pressure on account of negative environmental impact and the rising demand for efficient, user-friendly EV designs, making sustainability one of the highly pivotal challenges automotive industry is facing today. 

 
The shift from ownership to access
One of the most hard-hitting challenges automotive industry is facing is the massive shift from ownership to access. Despite increased affordability and a better standard of living, most consumers witness cars to be more of a perfunctory requirement than a status symbol or a luxurious possession. Numerous surveys have unearthed that consumers are open to the idea of using their cars as a money-making service when they aren't using them.

 
Also, consumers are ok with subscribing to monthly services that provide them access to insurance, vehicles, roadside assistance, maintenance, and the like. On account of practical ownership difficulties such as parking costs, repair and maintenance expenditure, and even environmental impact, there has been a massive decrease in the number of consumers wanting to own a car, which has initiated service providers such as Uber and Lyft to leverage this inclination toward access to vehicles on demand.

 
While not every service app is likely to retain 100% success, the current scenario indicates that the automotive sector is on the verge of observing a massive breakthrough that will see vehicle manufacturers focusing on the B2B channel rather than the B2C channel. In a survey by Intellias, more than 66% of respondents said that their use of car-sharing platforms may surge exponentially in the ensuing years.

 
Dealing with potentially changing consumer preferences and the simultaneously increasing production of cars is likely to emerge as one of the most crucial challenges in automotive industry. This would be specifically true in case driverless cars become mainstream, since it may curb the cost of travel per mile.

 
Millennial Woes
The millennial generation and their demands have come to crop up as one of the major challenges in automotive industry. Increasing complexity in car production leads to complex operating instructions as well – something that millennials don't really want to deal with. This has led to an increased requirement for personalized, conversational interfaces in automotive manufacturing, which will eventually result in the demand for more and more technological advancements.

 
Decreased preference for ownership is also a pivotal reason millennial marketing is becoming a major problem. According to an article by Fast Company, the number of cars bought by the populace between ages 18 to 34 reduced by nearly 30%. A study by the AAA Foundation for Traffic Safety also claims that of late, 54% teens are licensed before their 18th birthday, while only 44% of teens apply for a driver's license within the first year of eligibility. The statistic increasingly points toward a situation where the millennial generation has no particular inclination toward ownership and is more predisposed toward car-sharing platforms, the interface of which can be periodically checked via smartphones.

 
The U.S. Census Bureau claims that as on July 1, 2016, millennial population (20-35) was pegged at 71 million, while that of boomers (52-70) was pegged at 74 million. Apparently, millennial populace is likely to surpass that of baby boomers in America, by the end of 2019. As their numbers rise, so will their inclination toward quick solutions. With web analytics company SDL claiming that millennials between the ages of 18 and 36 check their phone close to 43 times a day, the pressure on automobile manufacturers to accurately design technologically advanced vehicles at affordable prices will surge extensively.

 
Retention of talented workforce
Attracting talent has come forward as one of the most significant challenges automotive industry is facing today. With changing consumer interest in digitization and a more personalized, connected car driving experience, the demand for advanced technologies has also increased. This has consequently surged the requirement for suitable personnel to understand, design, incorporate, and maintain these technologies. As per a report titled 'Future of jobs in India: A 2022 perspective', by EY and Ficci-Nasscom, the automotive sector will continue to hire employees at a rate of 2%-2.5% yearly, against a historical growth rate of 3%-3.5%. Apparently, close to 60%-65% of the jobs by 2022 will require new skill sets.

 
In order to adapt to changing times, experts in the automotive industry are required to educate themselves with the latest technologies and their incorporation in automobiles. This also demands the existence of a strong education system worldwide, with a collaborative learning approach, in tandem with excellent training programs in companies. With the integration of technology and the subsequent adoption of automated systems, the industry requires highly sophisticated talent that is capable enough to endorse themselves with the necessary skill sets for not only designing and conceptualizing these systems, but also troubleshooting and maintaining when necessary.

 
Novel roles such as 3D printing technician, AI-based vehicle cybersecurity expert, automobile analytics engineer, and sustainability integration expert are expected to be generated in the future, phasing out traditional job roles. In the next half a decade, the automotive industry may be in a critical position where conventional job roles may slowly disappear and new job roles may be scarcity. This is undeniably emerging as one of the most significant challenges in automotive industry.

 
Within the next couple of decades or so, the global automotive domain is likely to be replete with a host of challenges that would demand prompt attention. Automakers already have an insight into the same under the present circumstances. With the fear of Brexit looming in the distance, combined with the plethora of technological advancements such as behavior tracking, automotive collision repair systems, and the like, challenges in automotive industry are likely to call for major action from car manufacturers. It remains to be seen however, how automotive manufacturing companies deal with the ongoing storm and what the consequences would mean for the automotive sector.