Reports Q1 2021 results on Tuesday, Sep. 15, after the close
Revenue expectation: $17.5 billion
EPS expectation: $2.67
The world's largest parcel delivery service, FedEx Corporation (NYSE:FDX) has had an unexpected turn in its fortunes during the COVID-19 pandemic. Helped by the e-commerce boom seen during lockdowns and the stay-at-home environment, its deliveries are surging and its margins are expanding.
Investors have quickly snapped up this opportunity, sending FedEx shares up more than 125% during the past six months. The stock gained another 3.5% Monday to close at $236.34.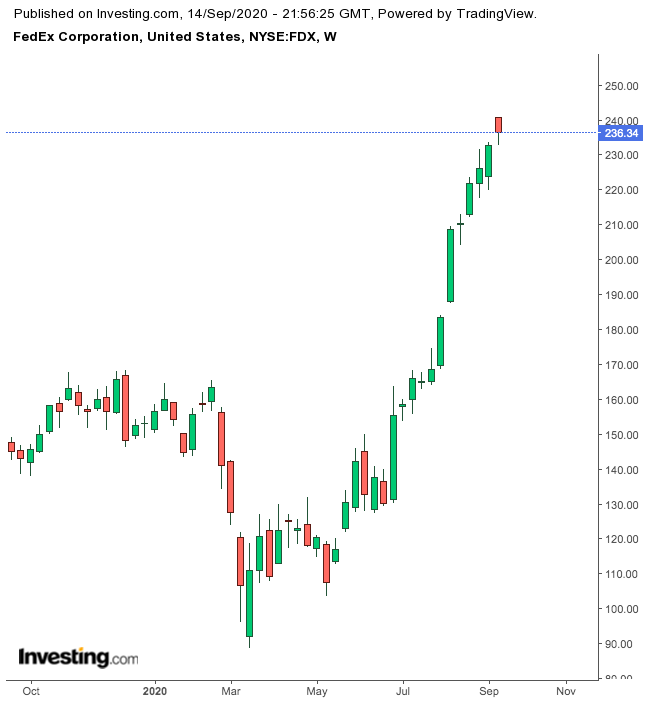 FedEx 1-Year Chart.
For those investors who missed this opportunity earlier, the important question is whether the explosive move has run its course? Investors will get some insight when the company reports its latest quarterly report later today.
One important driver of these bullish sentiments has been this belief that the shift to e-commerce is permanent and that increased demand will help FedEx to break out of its sluggish growth period of the past two years.
While FedEx deliveries to corporate clients suffered during the pandemic, its home shipments swelled. The company's profit for the last quarter, which ended in May, exceeded analysts' forecast by a big margin, as sales from its ground unit surged 20%. Home deliveries accounted for 72% of the division's sales by volume, compared with 56% in the same period a year earlier.
Before the pandemic, FedEx was struggling to win investors' confidence. The greatest concern keeping them on the sidelines was the ongoing trouble its European business faced after its costly takeover of Dutch courier service TNT in 2015. That deal failed to unlock the value investors were hoping to see.
The integration challenges and the slowing European economy had raised doubts about the benefits of the TNT deal, with some analysts questioning the wisdom behind this massive undertaking. But the global health crisis has changed the business dynamics, giving management a window of opportunity to turn around the business.
"I anticipate customers to pay more for pricing in November and December moving forward, and I do think that that will be a structural shift in the market," said Brie Carere, FedEx chief marketing officer, on a conference call with analysts in June.
Along with booming ground sales, the company has been successful in keeping a check on costs with a mix of job cuts, reduced incentive compensation, aircraft retirements and delays to some planned investment projects.
After these moves, some analysts see more upside in FedEx shares. In a note last week, Cowen analyst Helane Becker boosted her price target by 58%, saying she sees "no reason positive trends should end" in the near term. She raised her target to $264 from $167.
"Admittedly, FedEx valuation is currently near peak levels, but the market is attempting to digest the permanent shift to e-commerce volumes, which has caused the recent increase in the multiple," Becker wrote in a note to clients.
"The market continues to pay for growth (e-commerce) even if it is at the expense of margins."
Goldman Sachs analyst Jordan Alliger also maintained a buy rating on FedEx, setting a price target of $233. The current consensus among 23 TipRanks analysts is for a "moderate buy" rating of shares in FedEx, with an average price target of $206.59.
Bottom Line
FedEx is clearly one of the beneficiaries of the pandemic-driven boom in e-commerce. These macro trends are likely to remain in place, helping the company alleviate pressures on its cash flow and making a case for additional gains in its stock price. That said, investors shouldn't expect a huge upside move from here as the stock trades close to the market consensus.