Sixteen years since the conclusion of the Human Genome Project (HGP), one of the greatest scientific feats in human history, people around the world can now have a version of their DNA analyzed for a modest fee via Direct-to consumer (DTC) genetic testing. The technology is rapidly accelerating the number of people who are able to get testing of their genome for early detection of genetic health conditions.

 
Based on a report published in May 2018, the usage of personal genomics has exploded due to mushrooming consumer interest in genealogy. The field has expanded dramatically over the years to become the second-most popular internet surfing topic. Rising prevalence of genetic diseases such as Alzheimer's and cystic fibrosis will propel global direct-to-consumer genetic testing market outlook over the projected timeline.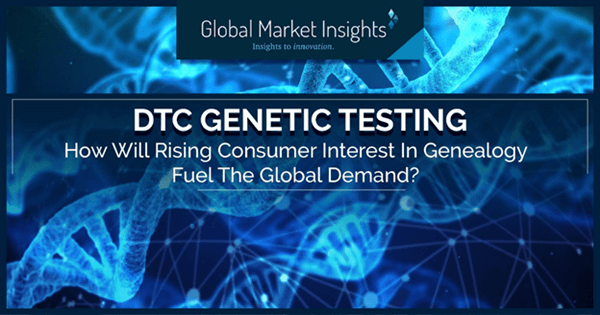 Future scope for use of DTC genetic testing to cure vitreoretinal disorders such as AMD
According to recent new report, researchers have successfully used direct-to-consumer genetic testing to identify patients with ARMS2 A69S and CFH Y402H alleles, the genetic variants whose occurrence most commonly indicates developing age-related macular degeneration (AMD).

 
The study had enrolled close to 3.5 million participants who used 23andMe, a DTC genetic testing service. Nearly 23% of the subjects exhibited the A69S allele and about presence of the Y402H allele was determined in about 35% of the participants.

 
Genetic testing may enhance disease identification and monitoring by identifying patients with high-risk genotypes, which could lead to earlier treatment of advanced ADM and optimize visual outcomes for patients, Theodore Leng, MD, MS, stated at the American Society of Retina Specialists annual meeting.

 
Use of DTC genetic testing to detect and prevent genetic conditions at an earlier stage as well as to treat several genetic diseases at an advanced stage will stimulate adoption of these tests, signifying healthy growth of the industry.

 
Growing awareness regarding the importance of genetic analysis to detect genetic diseases
Healthcare leaders and medical professional from around the world had gathered in California for the 71stannual meet of the American Association for Clinical Chemistry (AACC) from August 4-8, 2019, to learn about featured groundbreaking advances in direct-to-consumer genetic testing designed to help patients get the right diagnoses.

 
A dedicated session on DTC genetic testing delivered expert insights into how these tests fit into the present healthcare paradigm. The session tackled everything right from the differences between various testing option to the regulations that may either speed up or slow down its proliferation. Researchers shed light on how patients can benefit from these tests while also pointing out potential limitations.

 
AACC CEO Janet B. Kreizman said that advancements in genealogy have resulted in better understanding of several conditions, which in turn will facilitate more effective treatments. New paradigms such as DTC genetic testing will further enable patients to better communicate with clinicians on decisions pertaining to medical health.

 
Rising awareness among populations around the world regarding the important of genetic analysis and benefits of direct-to-consumer genetic testing will further drive industry growth.

 
A unified market for DTC genetic testing in Europe could be in the making
As per Health Europa, Eline Chivot, senior policy analyst for the Center for Data Innovation, had recently highlighted why Europe policymakers encourage France and Germany to lift their bans on direct-to-consumer genetic testing and instead formulate laws to form a single market for DTC genetic testing across Europe.

 
Countries that prohibit the use of these tests restricts their populations from accessing information about their own genetic legacies, which could prove to be fatal to their future health. Moreover, a single European market would bolster the adoption of these tests and will unlock the full potential of genetic data for the European countries, Chivot explained.

 
A unified market for DTC genetic testing in the Europe could result in increased product utilization, which in turn will augment the market size over the projected timeline.

 
The growing use of direct-to-consumer genetic testing is gradually transforming the practice of medicine by helping professionals better study and understand alleles leading to genetic diseases. These tests provide an opportunity to enhance wellness, empowering people to take more responsibility for their well-being. Estimates suggest that nearly 100 million individuals will be using DTC genetic testing by 2021.

 
According to a report by Global Market Insights, Inc., U.S. DTC Genetic Testing Market size to exceed USD 890mn by 2025m & the global direct-to-consumer genetic testing market is estimated to exceed USD 2.5 billion by 2025.