In this age of rapid industrial development and rising consumption of manufactured products, the global masterbatch industry has gained tremendous momentum from ceaseless demand for goods that are made using plastic material. Today, numerous plastic products and components derive their color from masterbatches developed for specific type of substance, being suited for application in the automobile, construction, agriculture, packaging and consumer goods segment.

 
As these industries grow in response to the increased purchasing power of consumers and a surge in infrastructure investments, the utilization of plastic materials will rise owing to the need for lighter, corrosion resistant and more durable components. Consequently, masterbatch manufacturers are bound to witness enormous opportunities for the development of innovative, more efficient color solutions for crucial industrial applications.

 
Generally, automakers seek ways to lower the overall body weight of vehicles to enhance their fuel efficiency, in addition to finding reliable parts that can last long and are affordable. Plastic is considered as an ideal solution to meet this requirement, helping plastic producers thrive from the auto components market. Separately, large scale consumption of consumer goods has warranted a continuous need for plastic products used in everyday life, including plastic food organizers and drinking glasses, boxes, waste carts and trash can liners, among many others.

 
Food packaging, often subject to stringent regulatory compliance and quality standards, also represents a lucrative market for specialized plastic materials. With every product category necessitating unique aesthetic design as well as physical and chemical performance characteristics, the masterbatch market plays a vital role in enabling the manufacturing of distinct product offerings worldwide.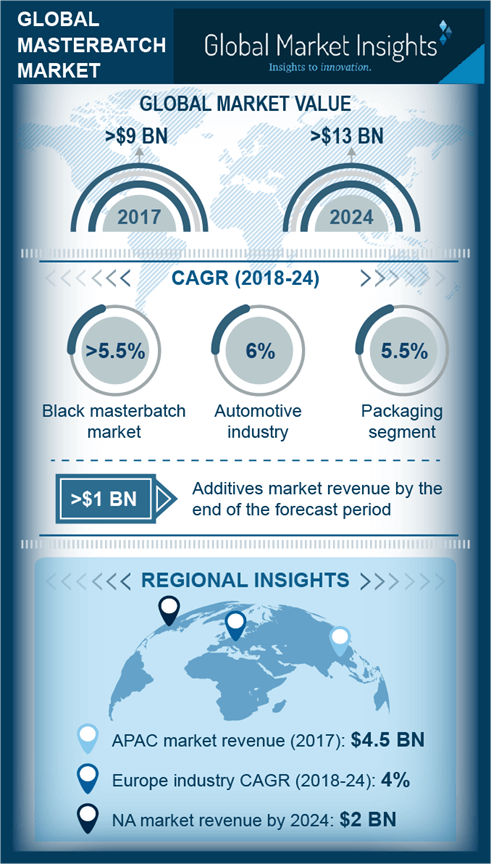 An imperative area within the packaging segment where masterbatch additives could witness growing adoption is pharmaceutical PET bottles, which not only entail high quality constraints but also the ability to mass-produce economically. A global population of more than 7.6 billion provides a consistent target base for drug makers, while the increasing occurrence of various chronic diseases are ensuring accelerated growth for targeted medicine businesses.

 
Different plastic materials are involved in the packaging of specialized and generic medicines, production of needles or making synthetic disposable medical garments. Steady rise in the manufacturing of these products could generate massive revenues for masterbatch companies over the next few years.

 
The scope of the masterbatch industry from packaging applications:
The manufacturing sector is directed by severe laws pertaining to the quality of products and the way they are delivered to consumers. Transportation and storing of goods are undertaken keeping in mind their physical as well as chemical nature, with proper packaging being an essential part of this process. Packaging has to fulfil needs such as safety, UV protection, easy product labeling and identification of food, beverages, cosmetics, appliances and pharmaceuticals. Subsequently, innovative masterbatch formula have been developed that helps in providing the clarity, color and lightness necessary for wrapping products, apart from many other basic properties.

 
The remarkable growth potential existing for the masterbatch industry from packaging can be inferred from the fact that the cosmetics segment in Europe alone had reached a market value of nearly €77.6 billion in 2017. Reliable estimates even affirm that masterbatch market size from packaging applications is slated to depict a CAGR of 5.5% over 2018-2024.

 
Enumerated below are factors endorsing the preference of masterbatches over powder-based color pigments and pre-colored resins in materials used for packaging:

 
Not only is the process of making masterbatch faster and less expensive, the product itself can help save considerable money for plastic manufacturers since using it for coloring is quite cost-effective as well. This will guarantee increased demand for the substance from businesses looking to ensure high product quality along with achieving economies of scale.
By deploying masterbatch additives to create a product, companies are able to enjoy a dirt-free surrounding and the absence of several health risks associated using powder pigments, besides producing much lower quantity of waste. Workers are often exposed to toxic compounds in plastic facilities, compelling the adoption of safer production processes.
Pre-colored resins can lead to uneven distribution of coloring on the end product, whereas through masterbatch the color carrier resin is uniformly distributed across the complete product. These factors will indisputably stimulate masterbatch production globally, with businesses coveting more efficient manufacturing practices.
While these substances deliver substantial tinting strength and dispersion quality, they are also able to meet the requirement of organoleptic properties for drink packaging, to limit the interaction between plastic and the package contents. Reportedly, around 217.5 billion pounds of milk was produced in the U.S. in 2018, demonstrating the prospects for masterbatch producers from milk packaging application.  

 
Unveiling the evolution of masterbatch industry in terms of the competitive landscape
Essentially, various health agencies all over world, similar to the U.S. FDA, have adopted standards for packaging of food and pharmaceutical products, which have to be adhered to by all the parties involved in the value chain. Over the years numerous competitors have introduced innovative, high performance and cost-effective products that conform to different aesthetic needs and quality terms.

 
Ampacet, for instance, recently launched a new white masterbatch developed for safeguarding packaged dairy products. It protects the content from photodegradation by providing suitable opacity to the pack, while abiding by Europe's instructions of having less than 4% mineral loading in PET bottles. Not long ago, the company had also revealed two masterbatches developed for prescription bottles, for offering the necessary UV protection, color, clearness, extractability and other mandatory properties vital for pharmaceutical bottles.

 
A novel masterbatch from Clariant, SenseAction, is an organoleptic product meant for caps used by the beverage industry, to help avoid customer experiences like poor tasting bottled water or bad smell.

 
It has frequently been claimed that plastic food packaging contain molecules which can migrate from the surface to food on contact and can ultimately be hazardous to human health. Appropriate coloring methods can ensure the food and chemicals the plastic do not react with each other. Citing another key product supplementing the packaging industry, Plastiblends' PET masterbatch additives provide excellent migration resistance, thermal stability, lightfastness and require a low dosage in the production process. It can be used for food packages as well as water, oil, pesticide and chemical bottles. These aforementioned instances irrefutably signify the growing inclination of the masterbatch industry towards building a strong portfolio of products suited for packaging applications.

 
Global Market Insights, Inc. has a report titled, "Masterbatch Market Size By Product (Black, White, Color, Additive), By End-user (Automotive, Consumer Goods, Packaging, Agriculture, Construction), Industry Analysis Report, Regional Outlook (U.S., Canada, Germany, UK, France, Italy, Russia, China, India, Japan, Indonesia, South Korea, Brazil, Mexico, South Arabia, South Africa, UAE), Application Growth Potential, Price Trends, Competitive Market Share & Forecast, 2018 – 2024" available at https://www.gminsights.com/industry-analysis/masterbatch-market