Rapid urbanization and industrial development have considerably strengthened the electrical steel market, with advancements in production methods and new, innovative applications boosting the product demand. Consistent rise in construction activities and consumption of household appliances worldwide has increased the need for power generation and supply, requiring efficient material to be used in energy storage and transmission systems. The global electrical steel industry has seen augmented use in the production of transformer cores and electric motors, in which electrical energy has to be efficiently converted and distributed.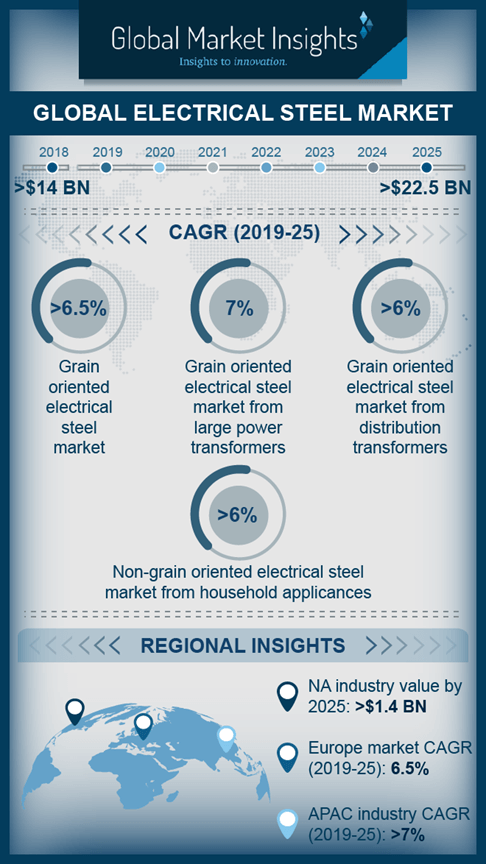 Apparently, when power is being transmitted over long distances, from where it originates towards different end points, it has to be converted into high voltages as compared to when the power was generated. This voltage is said to be thousand times more than people use for domestic power supply, therefore needing to be converted back to smaller voltage, with materials like electrical steel ensuring that minimum or no power loss occurs during this conversion process. Undeniably, expanding power grids, which are continuously accommodating rural electrification, will facilitate immense consumption for the electrical steel industry.

 
With numerous application segments leveraging the benefits of electrical steel products, manufacturers of the material have been able to develop specialized products suited for different use cases, energy capacity requirements and aesthetic purposes. ThyssenKrupp, for instance, offers PowerCore series of electrical steel, which are high-tech core materials meant for power and distribution transformers and even small transformers. The company claims these materials can help to comply with sustainability and environmental standards globally, since using PowerCore supposedly reduces the usage of limited resources like oil, copper and insulating materials.

 
Citing another key example defining the electrical steel market trends, ArcelorMittal has developed an innovative product, termed as iCARe, aimed for e-mobility and the automotive segment as a whole. It is an environmental-friendly, recyclable electrical steel which helps to optimize the electric current originating from a battery, offers high levels of mechanical power output with torque for a motor allows machines to be more compact. As evident, market leaders are paving the way for future applications and showing how the electrical steel industry can support the development of modern automobile solutions.

 
The International Organization of Motor Vehicle Manufacturers has reported that in 2018, more than 91.5 million vehicles had been produced globally, with China leading the statistics, having produced over 25.7 million units alone. This data suggests the tremendous capacity of vehicle production existing in the world today, which could see the replacement of combustion engine-powered units by hybrid or fully electric substitutes. Tightening regulations pertaining to CO2 emissions and the need for increased fuel efficiency has already directed the attention of automakers towards the electric steel industry, which can supply an eco-friendlier material to replace heavier, non-recyclable alternatives used in different aesthetic as well as motor parts.

 
Unveiling the potential of Asia Pacific electrical steel industry from electric mobility segment
In technical terms, electrical steel represents a soft magnetic material that delivers a magnetic flux density several times higher as compared to air, which is essential for the torque of an electric motor. As such, the material has vital uses in an electric vehicle (EV) apart from the batteries, including the need to avoid core losses in electric drives. The Asia-Pacific (APAC) region not only houses manufacturing plants of some of the leading steel producers in the world but is also considered to be a booming e-mobility market due the presence of global automakers. The rising disposable incomes in developing countries and the surging EV production activities throughout the region seems to promise significant demand for the electrical steel industry over the next few years.

 
Expounding the market prospects, it must be noted that China is the largest producer of cars in the world, as well as the leading automobile consumer. The country's government has been urging citizens and manufacturers to step into the EV segment actively, by offering key incentives and subsidies. Recently, the Chinese government decided to push its e-mobility drive by shifting the responsibility on the shoulders of car makers, with the introduction of a new system that will make it difficult for companies to establish plants for building combustion engine vehicles. With the presence of EVs from companies like Nissan, Tesla and Kia already making waves in the country, China could be a prominent growth territory for the APAC electrical steel industry.
Australia, which considers itself a slow adopter of EV technology, is also looking to speed up the expansion of e-mobility in the country. A report issued by the Australian government indicated that 79 percent of people in the nation support the establishment of EV charging station networks by the government. In addition, 76 percent said they will support government efforts to switch from conventional fleet to EV fleet. It can subsequently be understood that with the people of Australia demanding and supporting the advent of an electric-powered automobile segment, the country could soon become a major importer of EVs, or materials used in their manufacturing.

 
Speaking further on the enormous potential of the APAC electrical steel market with regard to the EV industry, the region boasts of massive production facilities of companies like Hyundai and Kia, in emerging economies, including India. The indication of prospective growth in the segment has encouraged the rise of many start-up ventures aiming to propel the adoption of EVs in India, such as EV hardware company Ather Energy and electric superbike maker Emflux Motors.

 
Unveiling key players dominating the competitive landscape of Asia Pacific electrical steel industry
APAC is home to some of the biggest names in the global steel manufacturing fraternity, who are leading their respective regional space and constitute a major part of imports of numerous European and American countries. One such key industry participant is Japan-based Kobe Steel, which serves a myriad of business verticals, including automotive, electronics and industrial applications. The company has been a prominent competitor to European electrical steel makers like Voestalpine and Aperam. Its fellow compatriot MITSUI & CO Ltd. is another well-established rival, consisting of specialized automotive and electrical steel business unit.

 
German multinational firm ThyssenKrupp also has a notable presence in the APAC electrical steel industry, with a major production facility in India. The company, presently under negotiations to form a merger with Tata Steel in Europe, could turn out as a leading supplier of automotive steel for future EV production in the region. Many other players are expected to rump up the production of the material to meet the rising demand from industrial and automotive customers. Globally, the electrical steel market is forecast to amass revenues of more than USD 22.5 billion by 2025, and APAC can be expected to account for a significant portion of these earnings.