The home improvement market has, in recent times, evolved to be the most potent of most money-making industry terrains, given the onslaught of reconstruction and refurbishment projects worldwide. Profitable business agreements in the construction cosmos are reliable indicators of the projection that  home improvement spending is expected to increase in the coming years. For instance, QuinStreet, Inc., the online marketplace solutions provider, recently extended its partnership with BobVila.com, a platform that provides home improvement solutions. BobVila.com is owned by celebrity home improvement expert Bob Vila, and the partnership is aimed at capitalizing the growing number of homeowners seeking remodeling help online.

 
QuinStreet provides services that has in the past helped nearly 25 million homeowners to find contractors engaged in a wide range of services. QuinStreet manages Find a Pro Network owned by Bob Vila, through which homeowners can search for trained contractors and receive free price quotes. The fact that there is an immense demand for services such as the one mentioned above points toward the immense potential that home improvement market will have in the coming years.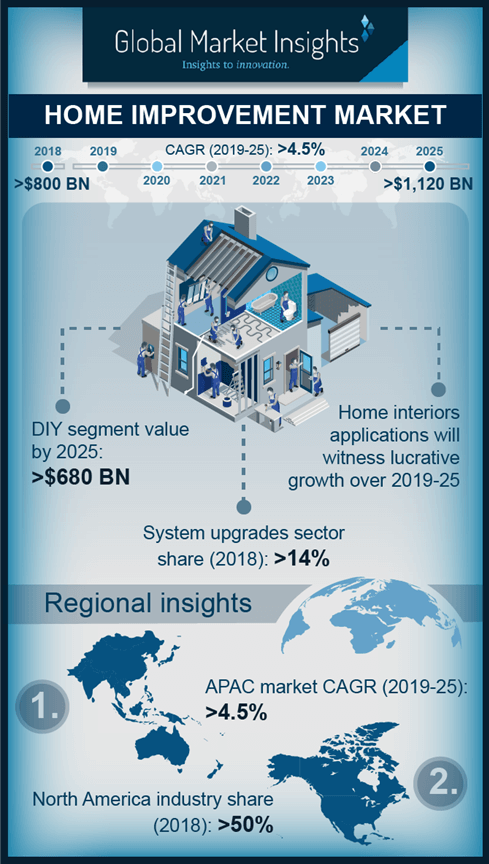 Some of the trends that act as the key factors for the home improvement industry expansion are the rising number of millennials, a recovering economy that is encouraging the influx of remodeling projects, social media trends that are urging consumers to spend on creating enviable living spaces, increasing disposable income and the rise of smart technology that demands to be incorporated in homes for creating better home wellness. The proliferation of such trends is certain to push forward, the growth prospects of the home improvement market over 2019-2025.

 
Millennials and their take on home improvement:
Though research shows that the Baby Boomers generation is the leading demographics when it comes to home improvement, the Millennial generation is quickly catching up. Studies underline the fact that in the U.S. this trend holds true due to the fact that many millennials bought older houses that made home improvement projects a necessity rather than an option. Rising mortgage rates coupled with inflated home prices have steered millennials towards buying older homes that need to be significantly upgraded. As millennials increasingly engage in home improvement projects which are either DIY or done with the help of home improvement professionals, the growth graph of home improvement industry will depict a significant uptick.

 
Though Baby Boomers have a considerable head start over the Millennials, the latter generation has a higher income compared to the former due to the increased participation of women in the workforce and their propensity to earn more when compared to the previous generations. Double income households that are less encumbered by healthcare or childcare costs naturally tend to invest more in personalizing their living space and home improvement projects.

 
A recovering economy and increased investments in remodeling:
Recent analysis has shown that in the residential sector, home renovation and remodeling are much more in vogue than moving homes, a trend that is expected to gather strength over the next couple of years. Housing economists are predicting a 4 to 5 percent increase in home remodeling in 2019 due to the fact that affordability of new houses is an issue and remodeling the existing house is a more reasonable option.

 
Considering that long time homeowners have created significant homeowner equity, in an era where the cost of new homes have skyrocketed, it is much more prudent to remodel an existing house than to buy a new one. Also, higher mortgage rates are discouraging homeowners to trade in their lower mortgage rates, which would be the case if they decide to buy a new house instead of remodeling their old one. The consistent spate of remodeling and refurbishment projects will thus prove to be a major factor for impelling the growth map of home improvement industry.

 
Social media and #HomeEnvy
Beautiful homes had always been a priority for homeowners, but the pervasive presence of social media has created a generation of aspirants who want their homes to be enviably beautiful. Social media influencers, educators and innovators have managed to reach the masses as never before and people are now more willing to spend more on home improvement. Surveys show that 44% of homeowners between the ages of 25 to 44 turn to social networks like Pinterest and Instagram to help inform their design choices compared to only 29% of homeowners aged between 45 to 55. Influencers, DIY experts, designers, and professionals who pride themselves on being a vital part of the home improvement industry are sharing ideas directly on social media, that consumers are enthusiastically implementing offline.

 
Because of the visual inclination of such platforms, it is only natural that appearances rank higher up on the list of priorities for homeowners considering a project. A majority of homeowners have been found to be undertaking home improvement projects due to purely cosmetic motivations. Women are also found to be more influenced by Pinterest and Instagram for home décor while men are most likely to handle plumbing and electricity centric home improvements. A revelation by NAEA Propertymark last year reveals that homeowners in UK have spent around £41 billion since the last five years in home improvement projects. A considerable proportion of the region's populace has been speculated to have undertaken DIY home improvement projects inspired by social media trends.

 
Home improvements for home wellness:
Rising awareness about pollution, air quality and toxic building materials has added impetus to the spate of home improvement projects involving the incorporation of HVAC systems, indoor sound insulation, energy efficient and sustainable features into homes. According to the EPA, a six-room house can collect nearly 40 pounds of dust in a single year that contains up to 45 toxic chemicals. Indoor levels of pollutants have been found to be two to five times higher than outdoor levels. Since people spend major portion of the time indoors, indoor air quality (IAQ) has raised more concerns in recent years all over the world. With consumers willing and able to spend more on making their homes healthier, much of the home improvement spending is directed towards the increasing the home's health imprint.

 
The Millennial generation is not only spending more on home improvement, but as multiple surveys show, the generation is also spending more time at home. Not only are jobs evolving to make it possible to work without commuting, but Millennials in general have expressed a desire to unwind in a relaxing and soothing environment than take out the pains of going to overcrowded night clubs. A significant portion of the population also cited the desire to save money as a reason to "stay in" than to "hangout". With the home becoming an escape from busy schedules, home improvement market is registering steady gains as more revenue in being invested in creating efficient, attractive, smart and desirable dwellings. In the years to come, the expansive proliferation of refurbishment and remodeling trends, in conjunction with the changing preferences of homeowners and the rising DIY fad, are certain to steer the growth graph of home improvement market to the path of profitability.

 
Global Market Insights, Inc. has a report titled, "Home Improvement Market Size By End-Use (Kitchen Improvement & Additions, Bath Improvement & Additions, System Upgrades, Exterior Replacements, Interior Replacements, Property Improvements, Disaster Repairs, Other Room Additions & Alterations), By Project (DIY, DIFM) Industry Analysis Report, Regional Outlook (U.S., Canada, Germany, UK, France, Italy, Spain, Russia, Poland, China, India, Japan, South Korea, Australia, Brazil, Mexico, Argentina, Saudi Arabia, UAE, South Africa, Turkey), Growth Potential, Price Trend, Competitive Market Share & Forecast, 2019 – 2025" available at https://www.gminsights.com/industry-analysis/home-improvement-market