Once secluded within the confines of the humongous polymers space, advanced polymer composites industry, in the last decade or so, has truly come onto its own. The ever-rising demand from manufacturers for more viable and high-performance materials has also strengthened the advanced polymer composites market growth, owing to the product's broad application scope in automobiles and aircrafts. Benefits offered by these composites, including corrosion resistance and lighter weight as compared to conventional materials like metals and wood, have augmented their deployment in numerous industrial and consumer products.

 
The production of polymer composite auto parts, conductors, storage tanks and pipes have gathered momentum owing to design flexibility, high-impact strength, durability and low thermal conductivity of these materials. Subsequently, a gradual increase in the consumption of products due to higher disposable incomes worldwide will considerably fuel the advanced polymer composites market.

 
How will the aviation space influence the advanced polymer composites industry trends?
Remarkable strength-to-weight ratio and abrasion resistance have made composites ideally suited for aerospace applications, particularly for making critical airplane parts. Weight of an aircraft has a major impact on its fuel efficiency and overall safety, driving manufacturers towards adopting likely weight reduction methods, including change in raw materials used to make different sections. With air traffic increasing every year and major airlines seeking to expand their fleet, the global advanced polymer composites industry will experience enormous demand from the aviation sector. Maintenance and repair of airplanes constitutes a major portion of airline expenses, making it necessary for parts to be more dependable and tolerable against extreme weather conditions.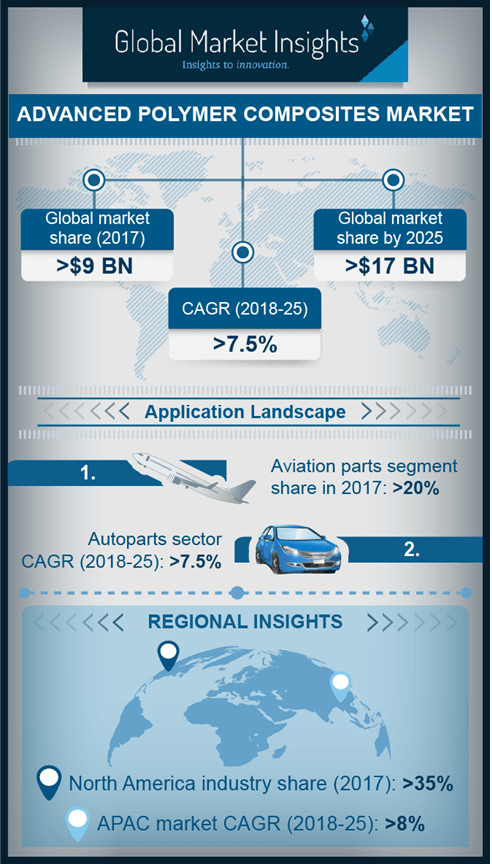 Statistics show that last year, U.S. aerospace giant Boeing had delivered around 806 aircrafts to customers globally, besides several other manufacturers who built hundreds of planes to keep pace with the accelerating global fleet expansion. Such activities will offer lucrative growth opportunities for the advanced polymer composites industry from the transportation segment. The travel industry can be further profitable with application in boat manufacturing, where key sections of a vessel are now being made and reinforced with advanced composites like carbon fiber. Carbon fiber, in particular, can also be useful in making strong and corrosion-free interior components and furniture for ships and private yachts.

 
As evident, rise in consumer spending across distinct commercial segments will inadvertently thrust the advanced polymer composites industry players into mainstream manufacturing. A key application area for the composites, one that promises to align with worldwide sustainability goals, is the fast-growing renewable energy sector where composites are helping producers to address various challenges associated with material quality, durability, flexibility and cost-effective manufacturing. The wind energy market has readily accepted advanced polymer composites to replace conventional materials used in making certain vital components of a wind turbine, especially the wind blade.

 
Elaborating on the potential impact of growing wind energy segment on the advanced polymer composites industry
Reports confirm that in 2018, nearly US$332.1 billion was invested in wind and solar energy as well as related technologies. The world has displayed tremendous concerns over global warming and use of fossil fuels for power generation, stimulating unprecedented growth of renewable energy initiatives by governments and private sector players. Even oil and gas majors have spent billions towards promoting wind and solar power, offering opportunities for different industries to take advantage of the renewables boom. Wind farms have cropped up all over the globe as potential substitutes for coal and gas powered plants, representing an emerging customer base for the advanced polymer composites market.

 
Expounding the importance of polymer composites for wind farms, these materials can enable manufacturers to deliver stronger and more long lasting wind blades that can spin faster and harness more wind at lower velocities. As long blades entail stability and reliability risks, polymer composites allow energy companies to benefit from wind blades that are longer but perform better and could be in service for more years. The blades exhibit superior mechanical properties like resistance to fatigue and torsion, along with high rigidity. The huge potential for the advanced polymer composites market from wind energy can be surmised from the below examples, citing two of the biggest renewable power projects in the world:

 
The largest onshore wind farm in Europe, Fantanele-Cogealac, is a 600MW project in Romania which accounts for around 10% of the country's renewable power generation. It consists of 240 wind turbines of 2.5MW capacity each supplied by GE, with every turbine having a 99m rotor diameter and 100m tall hub.

 
The Walney Extension Offshore Wind Farm in the Irish sea, the world's biggest offshore wind project, comprises 87 wind turbines supplied by Siemens Gamesa and MHI Vestas. The project boasts of 659MW capacity and has the ability to power about 600,000 U.K. households.

 
The aforementioned projects signify the massive scales at which onshore and offshore wind energy projects can extend to, demonstrating substantial prospects for the advanced polymer composites industry as the renewable sector expands. Another factor to be considered is the life of conventional wind turbines, that is usually between 20 to 25 years, since blades comprised of polymer composites could be used to upgrade or replace their aging counterparts in the future.

 
Supposedly, utility scale commercial wind turbines can cost between US$1.3 million and US$2.2 million per MW, or even more, depending on the capacity, project size and location. It is subsequently necessary to provide high-quality wind farms and curtail any unwanted maintenance expenses, an area where advanced polymers can prove to be valuable. Demand for the materials from wind blade manufacturers can be expected to rise sharply, surmised from the fact that Europe alone spent approx. US$30 billion over new wind energy projects in 2018.

 
An innovative approach to wind blade production was initiated last year where Arkema and researchers from the University of Tennessee and Vanderbilt University had begun attempts to make wind turbines more sustainable. The project focused on developing a liquid thermoplastic and lightweight resin that can blend with carbon or glass fibers seamlessly, to allow the fiberglass used in wind turbine blades become recyclable. By developing the resin, the researchers aimed to boost the sustainability of wind energy generation using composites.

 
As energy companies worldwide realize the importance of effective, sustainable disposal or re-use of decommissioned wind turbine blades at the end of their life, more programs may be undertaken to enhance the product value over the coming years. In essence, the advanced polymer composites industry is emphatically poised to witness augmented consumption from the wind energy sector in the imminent future.

 
Global Market Insights, Inc. has a report titled, "Advanced Polymer Composites Market Size By Product (Resin [Epoxy, Phenolic, Polyester], Fiber [Carbon, Glass, Aramid]), By Application (Conductors, Autoparts, Tanks & pipes, Aviation parts, Boat building, Wind blades), Industry Analysis Report, Regional Outlook (U.S., Canada, Germany, UK, France, Spain, Italy, China, India, Japan, Australia, Indonesia, Malaysia, Brazil, Mexico, South Africa, Saudi Arabia, UAE), Growth Potential, Price Trends, Competitive Market Share & Forecast, 2018 – 2025" available at https://www.gminsights.com/industry-analysis/advanced-polymer-composites-market