With the rising consumption of animal sourced food and increased focus on consumer health, the animal vaccines industry has witnessed a steady growth as far as product awareness and global demand are concerned. Growing number of household companions resulting from a surge in pet adoption has also influenced the need for highly-effective disease prevention remedies, since these animals are constantly in human contact. The latest and most enhanced veterinary vaccines are now more commonly accessible to not only skilled users such as farmers and zoo keepers but also inexperienced pet owners, along with proper guidance on how to administer them. Unpredictable outbreaks of viral and bacterial infections in livestock in different parts of the world will certainly fuel the expansion of the animal vaccines market.

 
It is believed that extensive use of numerous types of animal vaccines has helped to prevent illnesses and deaths of millions of animals over the past hundred years, as they counter any diseases passed between species. Apparently, vaccines provide long-term immunity and avert future disease even if the host is exposed to an infection later on, while following proper check-up and vaccination schedules ensure there is no protection interlude. Most countries have made it mandatory to vaccinate pets, whereas immunization of livestock is a basic requirement and a common practice. In fact, vaccination of farm animals has become increasingly important owing to augmented consumption of meat, pork, poultry, dairy and fish products, representing a key application area for the animal vaccines industry.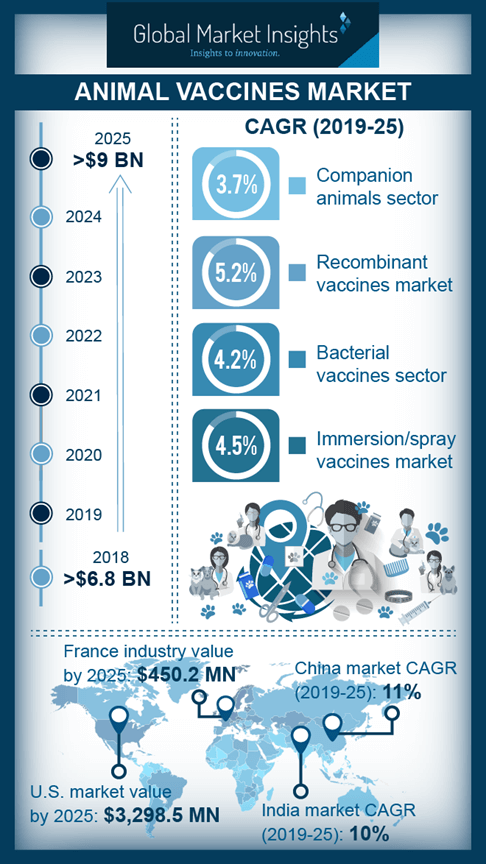 Reportedly, the United Nations has projected that the world population will reach 8.1 billion in 2025, going on to surpass 9.6 billion by the year 2050. Undeniably, this massive population boost will generate greater demand for animal products throughout restaurants, fast-food chains, supermarkets and convenience stores, as well as for food exports. Eggs, bacon and milk are a vital part of everyday meals for millions of families worldwide and the quality of these products are vastly dependent on the health of the animals. As such, there has been persistent development of effective oral, spray and injectable vaccines to address different illnesses and new variants of existing disease pathogens discovered year after year in farm and household animals.

 
Nearly $3 billion is spent annually by the animal health sector for developing new medicines and treatment options to deliver enhanced care, with vaccinations constituting a significant share of animal welfare programs and veterinary inventories. Various animal vaccine manufacturers, including Boehringer Ingelheim Animal Health, Dechra Pharmaceuticals, Elanco, Merck Animal Health and Zoetis, are supplementing the livestock and companion animal markets with critical medicines to treat distinct infections. Tightening control on human welfare policies has also stimulated the animal vaccines industry, from avoiding zoonoses of pets to neutralizing the spread of livestock diseases such as Virulent Newcastle, Cowpox and Avian infectious bronchitis, among several others.

 
Escalating consumption of poultry products to shape recombinant animal vaccines market:
Essentially, recombinant vaccines are considered to have the potential to bring remarkable developments in control and elimination of diseases at poultry farms and processing facilities. For creating this technology, scientists have been able to utilize the natural tendency of viruses to latch on to animal cells and infuse their genetic material in them. Portions of DNA form other microbes are inserted into genomes of certain harmless viruses and delivered to cells, helping to mimic a natural infection and trigger the immune system. Basically, recombinant vaccines are produced by genetic engineering and represent a highly innovative technological achievement in the animal vaccines industry. Many such vaccines seem to have penetrated the poultry farming segment to prevent infections like Infectious Laryngotracheitis (ILT) and Marek's disease, which has most certainly influenced the overall animal vaccines industry outlook.

 
In general, ILT virus can lead to considerable losses from the manufacturing of eggs and meat products, as it affects chickens of all age groups. Although most of the treatments for this disease are based on a modified live virus and are quite effective, they can cause adverse effects, including vaccine strains spreading across other flocks. Herpes virus of turkey is an important vector used widely for developing recombinant vaccines for poultry necessary to avoid the incidence of ILT virus as well as Marek's disease, which ultimately results in high-quality food products. The ceaseless need for developing novel vaccinations that safeguard the health and value of chickens can be inferred from the following cases:

 
In mid-2018, numerous Newcastle disease outbreaks had been reported in Europe, with both small businesses and commercial poultry faculties being affected in Netherlands, Belgium and Luxembourg. Belgium even demonstrated 10 to 20% mortality rates in affected flocks, compelling the U.K. government to sound the alarm regarding a possible outbreak of the disease in the region.
In April 2019, officials in Arizona, U.S., started informing about the presence of Virulent Newcastle disease in small pet chicken flocks in Coconino County, the first such occurrence in the state. It is rumored to be linked to the disease outbreak in California which began the previous year and has led to more than 400 cases being reported till date.

 
According to the Centers for Disease Control and Prevention, U.S., around 25,600 cases of foodborne illnesses were registered in the country in 2018, with largest number of multistate outbreaks of food-related sickness observed in over a decade. A notable proportion of these cases are being attributed to meat and poultry products. Subsequently, the veterinary vaccines industry could garner considerable revenues from the consumption of animal vaccines in the U.S. to fight existing and any future epidemics. Globally, poultry production had reached nearly 123 million tons in 2018, suggesting enormous import and export prospects for processed food, along with the compulsion of maintaining the health of livestock the food is sourced from.

 
Separately, the animal vaccines industry also promises a steady growth rate from application in shelters and non-profit organizations, who take in stray or distressed animals and offer them veterinary care. Various educations initiatives are making people aware about how vaccines work in animals, what kind of treatments are needed for which species and how to treat them. The University of Wisconsin's School of Veterinary Medicine, for instance, has special programs to train community members, shelters and rescue organizations on the characteristics of shelter medicine. Similar steps to promote veterinary care and vaccination benefits worldwide will immensely reinforce the animal vaccines market dynamics.

 
Global Market Insights, Inc. has a report titled, "Animal Vaccines Market Size By Animal Type (Farm Animal Vaccines {Poultry Vaccines, Cattle Vaccines, Swine Vaccines, Equine Vaccines, Aquaculture Vaccines}, Companion Animal Vaccines {Dog Vaccines, Cat Vaccines}), By Technology (Live Attenuated Vaccines, Inactivated Vaccines, Toxoid Vaccines, Recombinant Vaccines), By Infections (Bacterial Vaccines, Viral Vaccines, Parasitic Vaccines, Fungal Vaccines), By Route of Administration (Injection Vaccines, Oral Vaccines, Immersion/Spray Vaccines) Regional Outlook (U.S., Canada, Germany, UK, France, Spain, Italy, Poland, The Netherlands, China, Japan, India, South Korea, Australia, Brazil, Mexico, South Africa, Saudi Arabia), Application Potential, Competitive Market Share & Forecast, 2019 – 2025", available at https://www.gminsights.com/industry-analysis/animal-vaccines-market